Shohreh Bayat had not been planning to take a stand, but sometimes it happens anyway. She was working as the Chief Arbiter for the 2020 Women's World Championship held in China when the President of the Chess Federation from her native Iran sent a message that got under her skin. "The president of the chess federation sent me a message; he said my hijab is not proper. It really made me furious," Bayat told Lichess in an interview. Head scarves partially covering the hair, also called "hijabs," must be worn by women at all times in Iran by law. The President's complaint to Bayat sprung from the head scarf's exact position; it was too far back, revealing too much hair. "I was already doing my best to tolerate this with difficulty. It was fine by Iranian standards, but he was pushing me and pushing me. I was miles away from my country and they were still hassling me." Bayat decided to make a little show of force, nothing serious, just a small reminder that she couldn't be pushed around.
Bayat with a hijab placement deemed improper. (Photo: Zhang Yanhong, FIDE)
"I decided to stand against him, but in a way that I could still come back to Iran, and not get in trouble, sending a message to leave me alone. The next day I pushed my hijab back a bit further" There was no immediate response. Bayat even appeared in an official federation news report, but they used images from the previous day when she'd worn a more acceptably placed hijab. It seemed that the message she wanted to send had been safely delivered without causing too much trouble. "The next day nothing happened." However, a difference of about 5 centimeters in hijab position would change her life forever. "When I came back to the hotel… I had no idea… I turned on my phone, I was the top news for every news agency. There were loads of messages from people sending me screenshots and telling me not to come back to Iran." Photos had been circulating in Iran that showed her low-hanging head scarf. Making the situation worse, some were taken from an angle that gave an exaggerated impression of how far back she had pushed it. In some pictures the head scarf appeared to be around her neck, barely covering any hair at all.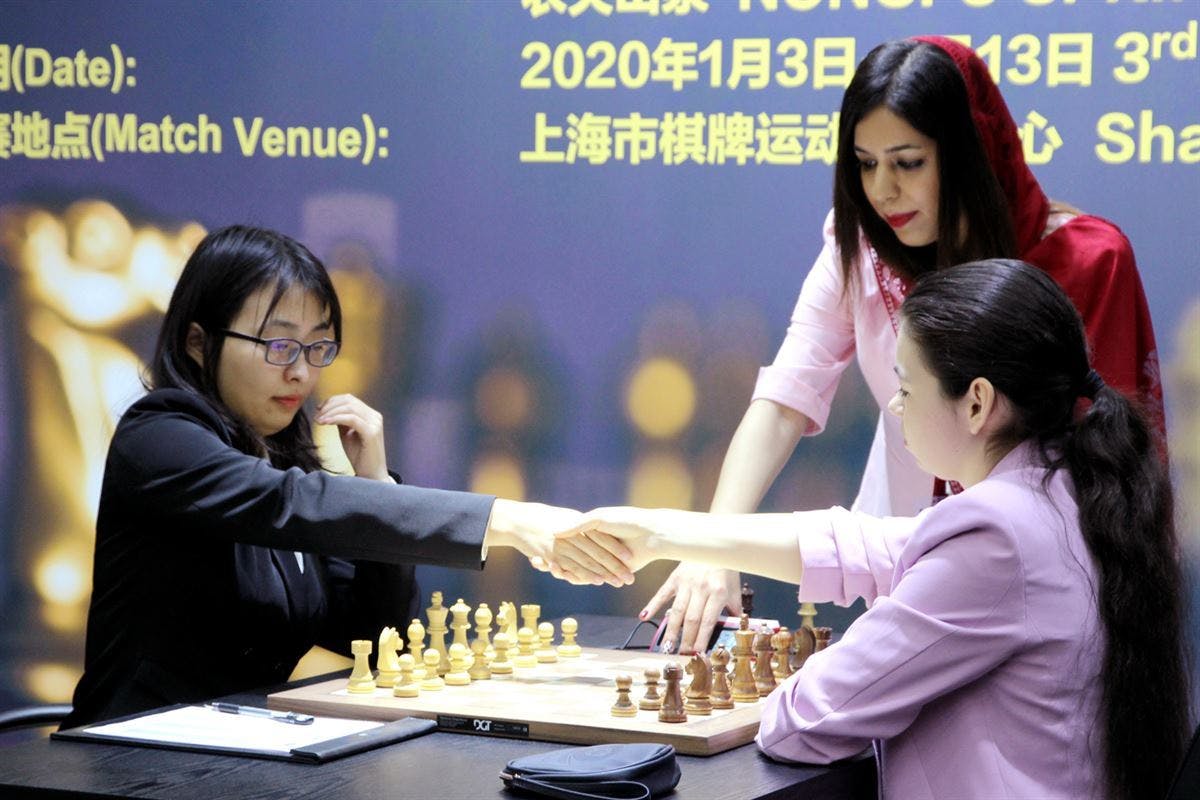 Bayat During Round 2, pushing her hijab back further to make a point (Photo: Zhang Yanhong, FIDE)
Even still, Bayat had hopes of salvaging the situation. Tense negotiations with the chess federation began. There was talk of exchanging an apology for a safe return home. "I got in touch with someone from the foreign ministry as well, he sent me a list of things to do. That was really awful. He told me I can only give interviews with the state news agency. I have to say that all my achievements belong to the Iranian regime. I had to praise Ayatollah Khomeini and Qasem Soleimani. There were 2 pages of things to do."
When Bayat was younger, men and women chess players were not permitted to play against each other in Iran. This represents a serious barrier for young players who want to move up in the chess world and need to play the best players possible to develop their skills. Bayat's father managed to negotiate an exception for her. "Everybody there was men, I was a little kid, like 9 years old, there was nobody to speak to." She won many prominent tournaments as a young player. Her successful playing career was a springboard to become a highly successful chess arbiter and organizer. In 2017, she was appointed as the General Secretary of the Iran Chess Federation, the first female General Secretary of a sports federation in the country.
At the 2020 Women's World Championship, the prospect of a peaceful return home for Bayat was fading fast. "I saw an interview with my Dad, I hadn't spoken to him about anything. He said I'd spoken to him, and that I would come back to Iran and explain everything, like I did something wrong. I knew these were not my father's words. That's what the regime does to people, forces them to do these interviews. The next day I decided not to wear a head scarf at all."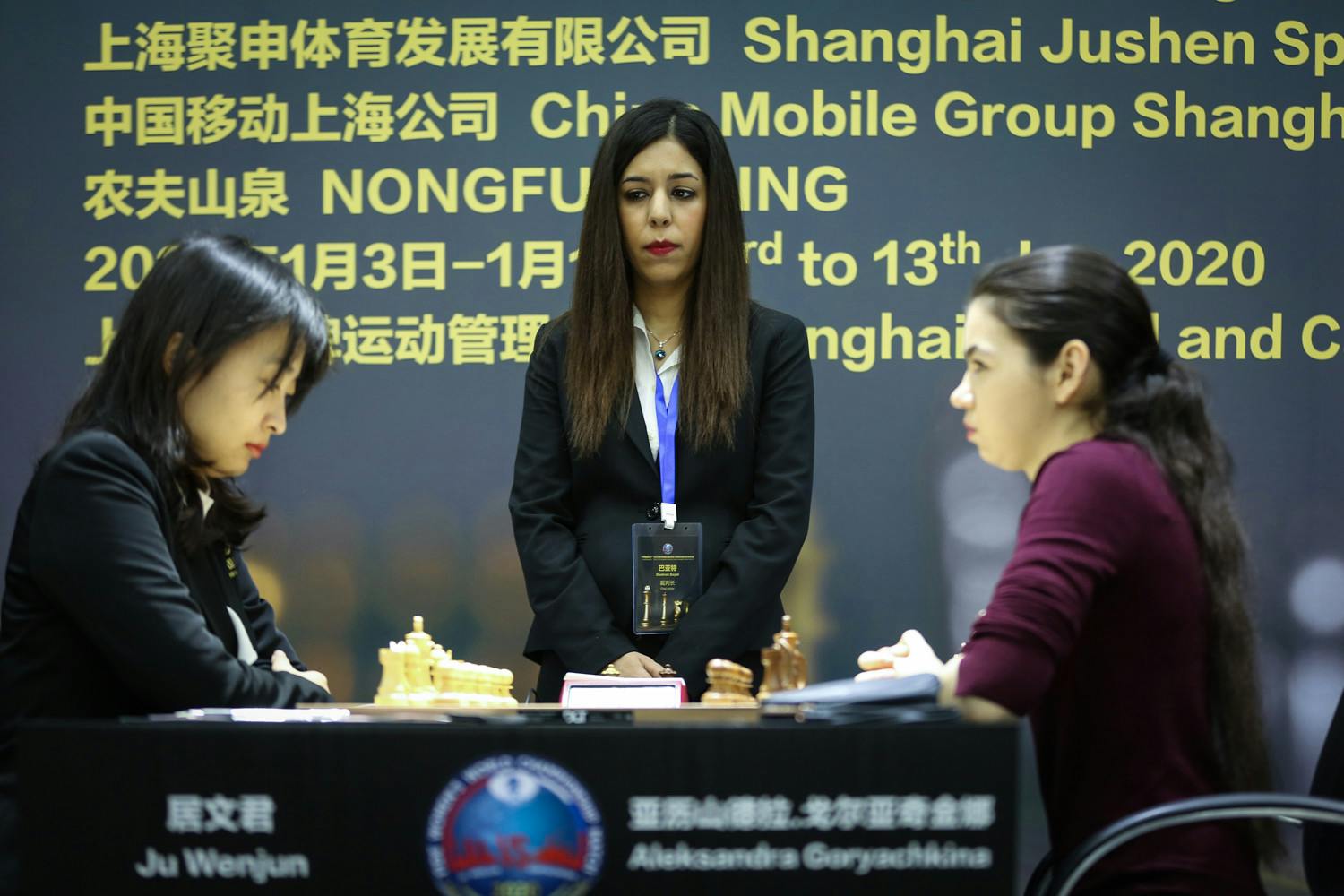 Bayat, now having given up on the head scarf altogether (photo: Lewis Liu, FIDE)
Over the last few years many prominent chess-playing Iranian women have left the country, often in connection with not wearing a head scarf at international chess tournaments. The first one was IM Dorsa Derakhshani, who was kicked off the national team after not wearing a head scarf at a 2017 tournament in Spain, something she'd done often at events outside of Iran before, but had somehow gone unnoticed. It's hard to imagine such a casual commitment to monitoring head scarves from the Iranian government these days. The country has been racked by protests against mandatory head coverings in public since a woman named Mahsa Amini died while in police custody after being severely beaten in September of 2022. She attracted police attention by doing exactly what Bayat had done, wearing her head scarf in a way they deemed improper.
In this atmosphere, Bayat knew that returning to Iran would not be safe, however she didn't have legal residency in any other country. Her husband was also still in Iran. "I got in touch with Malcolm Pein, he found a lawyer for me who told me what to do." Bayat was eventually granted asylum in the UK. After 1.5 years her husband was able to escape as well. "My husband was shaking in the airport, but he managed to get out."
Another Iranian woman, IM Sarasadat Khademalsharieh, joined the list of head scarf rebels at the 2022 FIDE World Rapid and Blitz Championships in December. WGM Atousa Pourkashiyan, an Iranian US resident, also went without a head scarf at that event. In 2014, the Iranian Women's team finished 20th at the Chess Olympiad, all players from that team have now left Iran. Khademalsharieh relocated to Spain, Pourkashiyan to the US. WGM Mitra Hejazipour is in France, and WGM Ghazal Hakimifard in Switzerland. Iran has also had problems holding onto their male players. Former Iranian #1s GM Alireza Firouzja and GM Elshan Moradiabadi now reside in France and the US, respectively.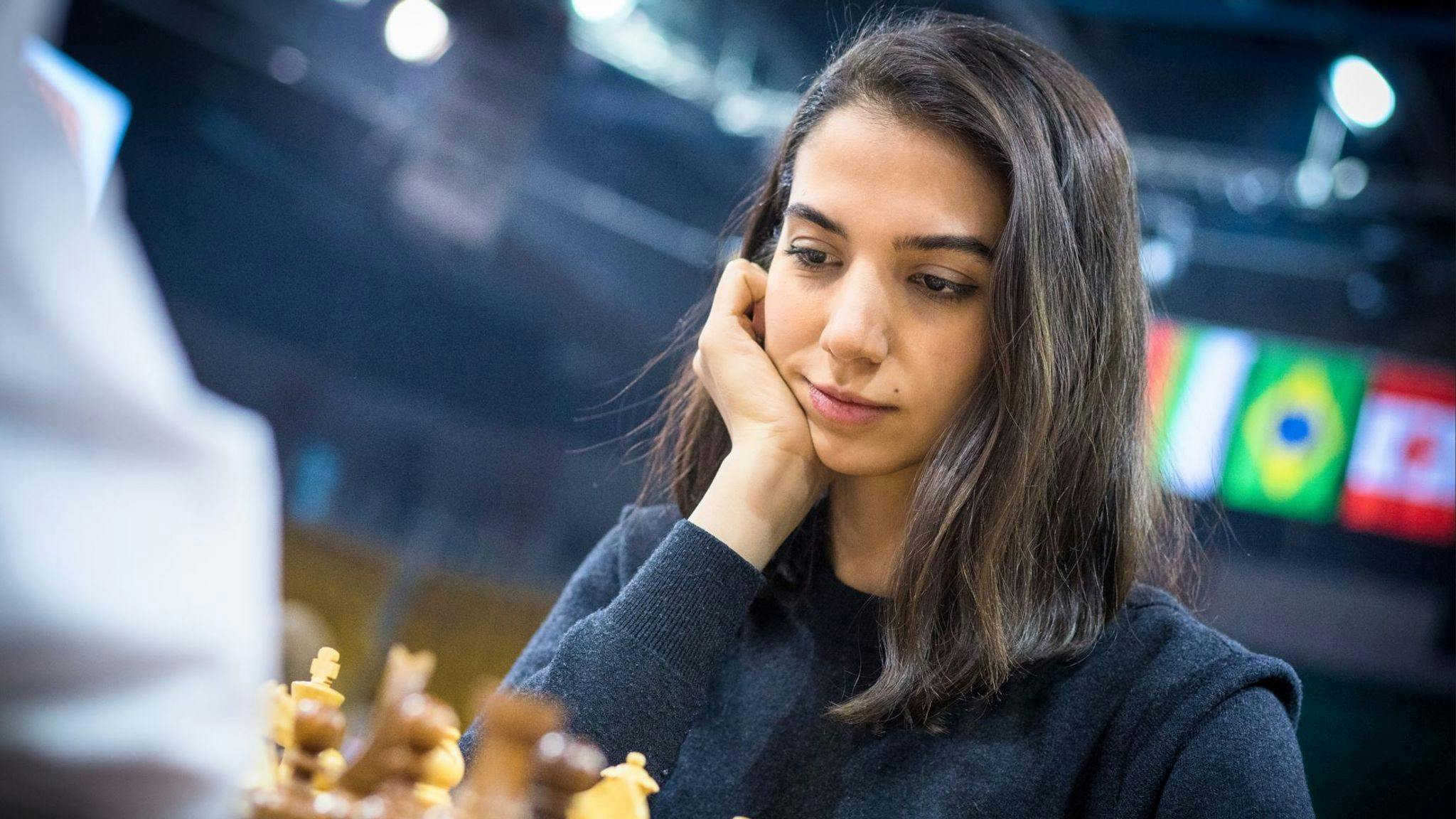 Khademalsharieh, playing for the first time with unrestricted hair (Photo: Lennart Ootes)
Another issue affecting Iranian players is the expectation that they will refuse to play against Israelis, a rule that exists in all sports for Iranian competitors. The two countries have had hostile relations since the Iranian revolution in 1979. At the same event where Derakhshani got into trouble, her 15-year-old brother Borna was also banned from the national team for playing a game against GM Alexander Huzman from Israel. This "protest" was even less planned than Bayat's. According to Borna, he had no idea what his opponent's nationality was until after the game. 
In 2019, Iranian GMs Parham Maghsoodloo and Amin Tabatabaei played games against Israelis at the Sunway Sitges Chess Festival leading to some short-lived speculation that the boycott policy had been changed. Afterwards an Iranian state news agency published an interview with Maghsoodloo where he apologized and claimed he didn't know the nationality of his opponents. Six months later, the Iranian Chess Federation elected a new president, Hassan Tamini. Tamini has never played a FIDE rated chess game and had never held a position with a large chess organization before becoming president. He was previously the head of the Morality Police at Tehran Medical University, the organization responsible for enforcing mandatory head scarves.
FIDE, the chess world's governing body, has had a varying response to all this. For years, FIDE formally avoided pairing Iranians and Israelis to play against each other, giving no opportunity for boycotts to happen. That changed in 2018 when Arkady Dvorkovich won the FIDE presidential election and reversed the policy. At the 2020 FIDE general assembly a resolution was passed threatening Iran with "targeted punishments" if the boycotts continued. In response, the Iranian Chess Federation released a statement claiming that the boycotts were not mandated but instead a "personal decision" of the players. Sports federations in Iran have banned multiple athletes from the national teams in chess and soccer explicitly for playing against Israelis. A large number of Iranian athletes competing in chess, judo, soccer, wrestling and other sports have fled the country and confirm that the boycotts against Israelis are mandatory. Since that time, numerous games have been boycotted and no further action was taken by FIDE.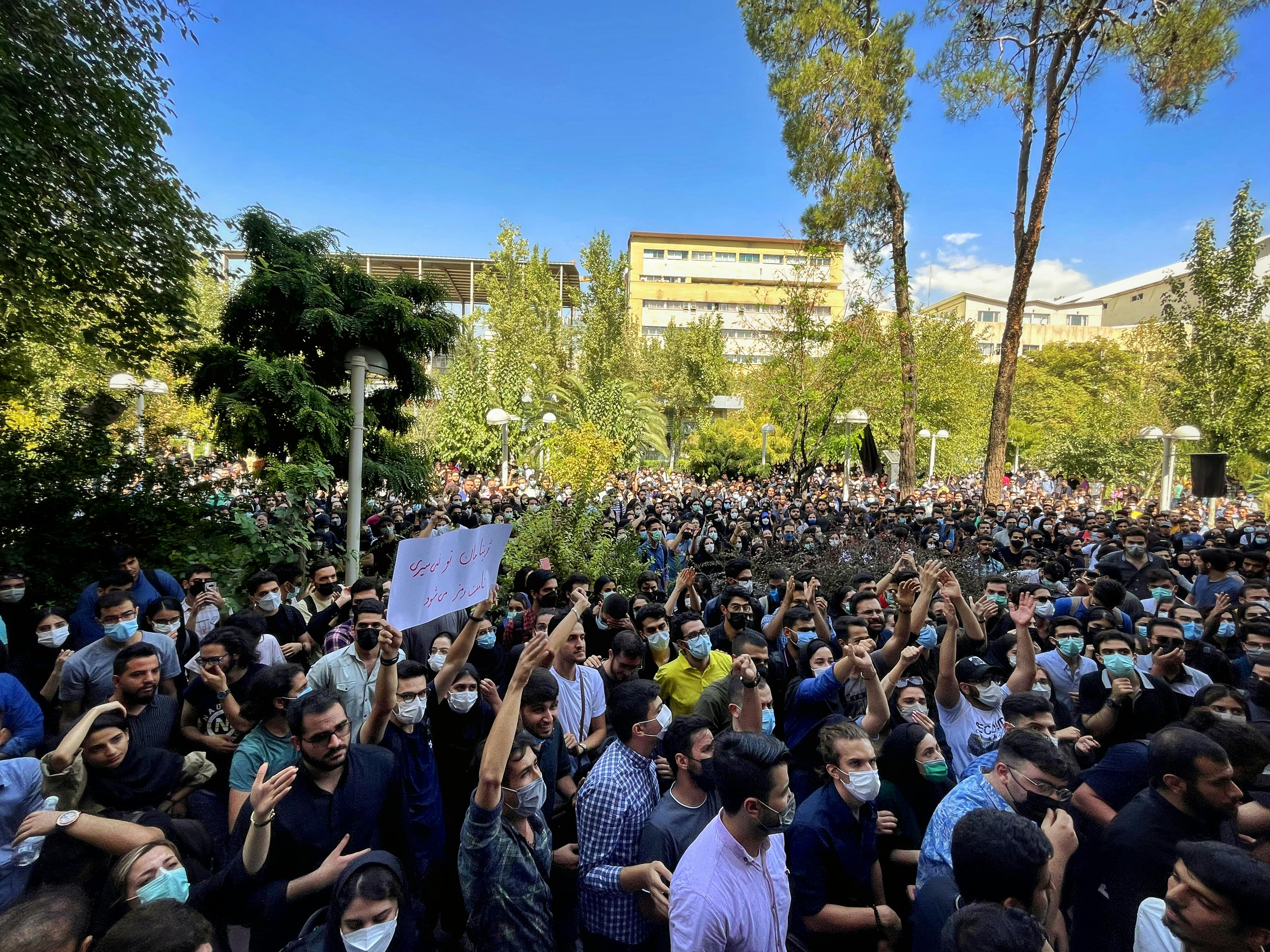 The "Amir Kabir University uprising" in September of 2022 in Tehran (Photo: Darafsh, Creative Commons)
Contacted for comment, FIDE Chief communication officer David Llada says that the situation is complicated: "The difficulty in taking action lies in the fact that for FIDE, protecting the players and the chess community is a much bigger priority than punitive actions against a federation. Iranian players and officers receive instructions from their government, and not following them can have serious consequences for them — this is something that has to be clearly understood. Suspending the federation entirely on these grounds is an extreme measure that could bring disastrous consequences for chess in the country." 
A blanket ban against the whole federation would not be totally unprecedented. The Iranian Judo Federation, and by extension all of its athletes, are currently serving a four year ban from international judo after Iranian Saeid Mollaei was allegedly asked to lose a match on purpose to avoid facing an Israeli at the 2019 Judo World Championships. After reporting what he was asked to do, Mollaei fled Iran to Germany and won a Silver Medal at the 2020 Olympics representing Mongolia.
The 2020 Women's World Championship wouldn't be the last time that Shohreh Bayat got into trouble for resisting the Iranian regime, although this time the trouble would come from a different source. While working as an arbiter at the 2022 Fischer Random World Championships,  she decided to wear a shirt with the Iranian protest motto "Women, Life Freedom." According to Bayat, "Arkady [ed note: Arkady Dvorkovich is the President of FIDE] got so annoyed with me. A FIDE official asked me to remove it. I said it was not against the dress code. He said I was right." The pressure to remove the shirt continued, inching closer to becoming a direct order without quite crossing over that line. "A FIDE official told me that Arkady was officially asking me to not wear the T-shirt. I said if it's official, I want you to send it in a written form. Nothing has ever been sent to me."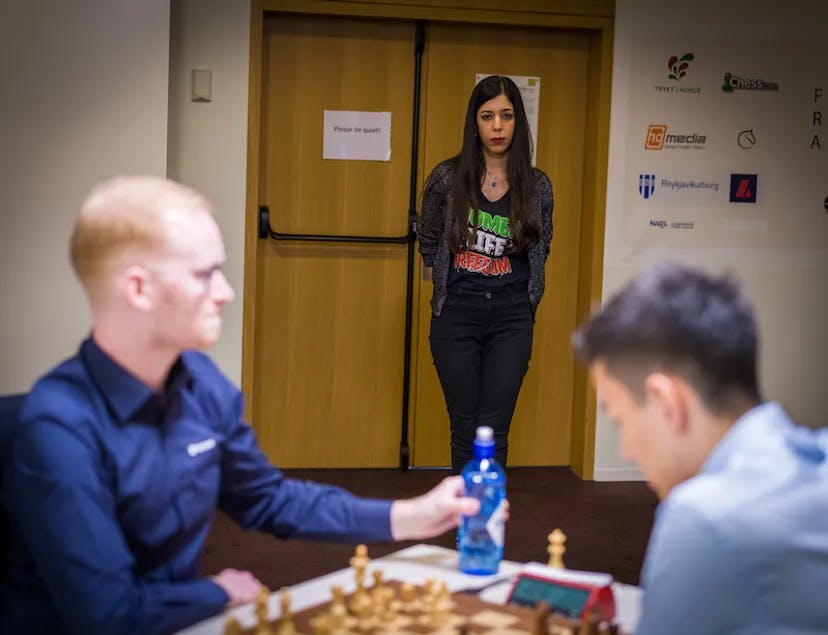 Bayat and the "Women, Life, Freedom" shirt (Photo: Lennart Ootes)
David Llada concedes that there is no FIDE arbiter dress code for Bayat to violate: "This is true, and it is something FIDE should fix ASAP." However, he stands behind the decision to ask Bayat to remove the shirt: "FIDE officials need to follow political neutrality while on duty, and of all the official positions one can hold, that of an arbiter is the one that demands higher standards of integrity, neutrality, and discretion. No matter how noble or uncontroversial the cause is, doing activism from that role is inappropriate and unprofessional."
Arkady Dvorkovich's job as FIDE president is far from the most prominent one he's ever held; it must be considered a step down from Deputy Prime Minister of Russia, a post he held from 2012 to 2018. Iran has always been an important ally for Russia, even more so since the invasion of Ukraine. The Russian Federation relies partly on drones manufactured by Iran for its attacks on civilian infrastructure and has historically been the main supplier of arms and weaponry to Iran. Both countries face heavy sanctions from the United States and European Union. Dvorkovich has often associated with fellow politicians in his official capacities with FIDE. Russian President Vladimir Putin was invited to make a statement at the opening ceremony of the 2021 Online Olympiad. Indian Prime Minister Narendra Modi made a speech at the 2022 Olympiad.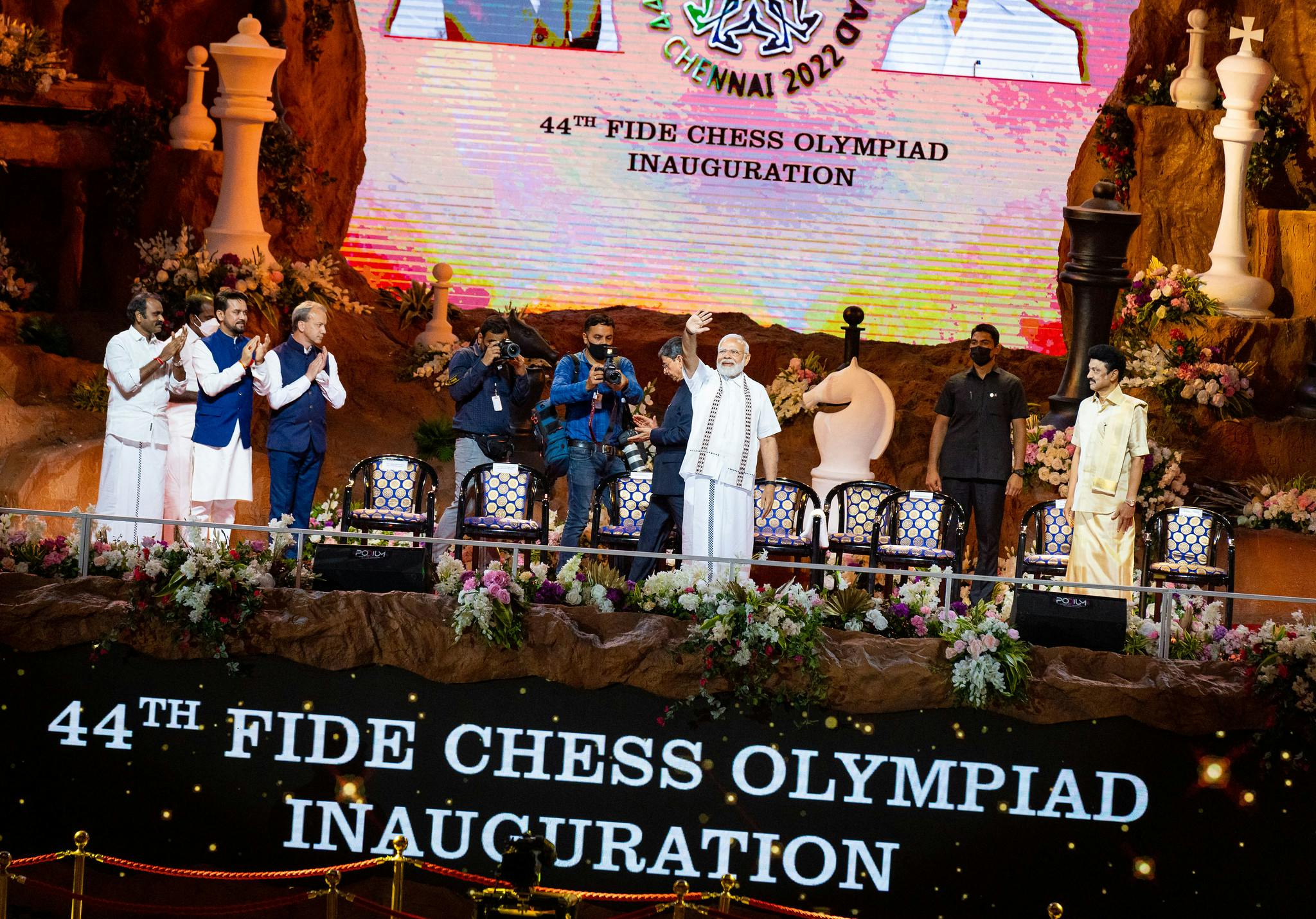 Narendra Modi addresses the Olympiad crowd while Dvorkovich applauds on the left. Also in attendance Tamil Nadu Chief Minister MK Stalin and Sports Minister Anurag Thakur. (Photo: Lennart Ootes)
The categorization of the request to not wear the shirt continued to vacillate back and forth from official to unofficial. "The next day he (Dvorkovich) sent a private message to me, he said this is a personal request, asking me to not make the tournament political and take off the T-shirt." Bayat carefully considered her options. "I told him I wouldn't wear my T-shirt for one day but I wanted to think about it, I wanted to do the right thing." Eventually she decided to replace the shirt with a different one that perhaps Arkady would find more acceptable. "I wore a Ukrainian dress, I dedicated it to the Ukrainian flight which was shot down by the Iranian regime."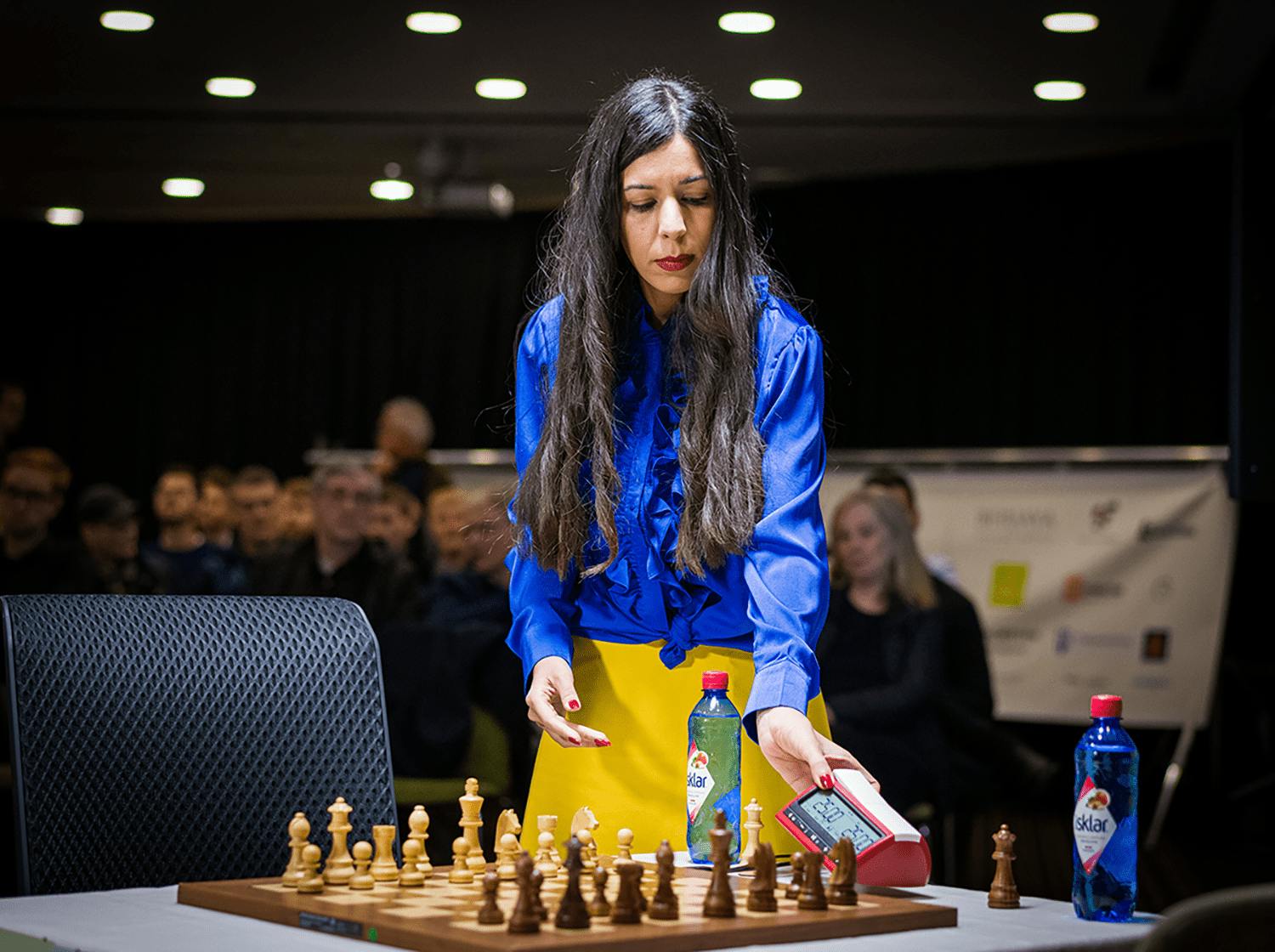 Bayat in her "Ukraine Dress" (Photo: Lennart Ootes)
Bayat had been a member of the FIDE Arbiters' Commission, but after the battle with Dvorkovich that would change. "My federation nominated me. They said they were very happy with my work, they were talking about putting me in a higher position. Other federations like Hong Kong and New Zealand also nominated me. Then the list was published on the FIDE website, I was the only one removed from every commission." She was offered a spot on the new Women's Commission, but accepting the job could have been awkward. The new Women's Commission secretary, Shadi Paridar, is also the current Vice President of the Iranian Chess Federation.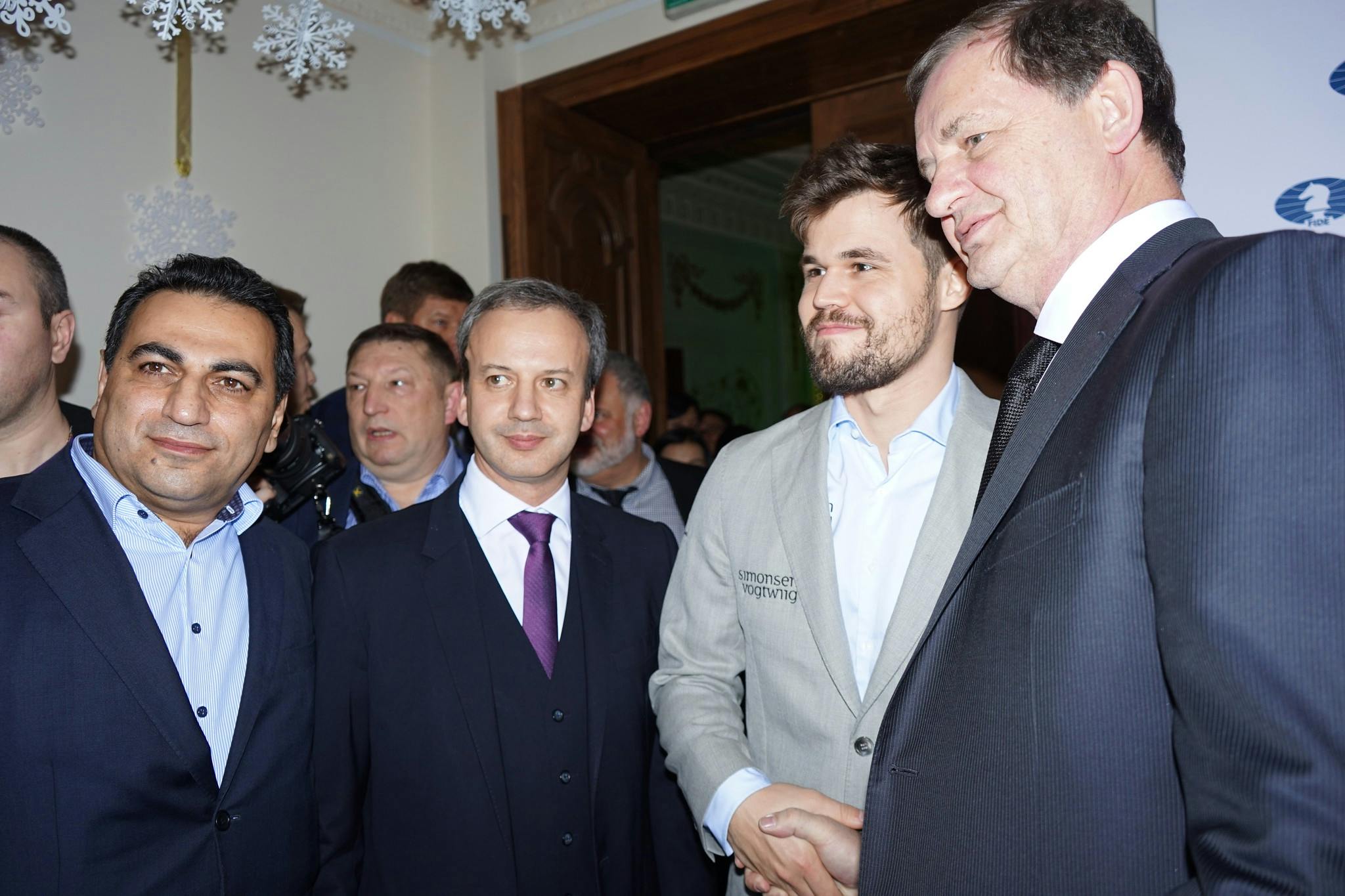 Dvorkovich, second from left, at the King Salman rapid and blitz, a FIDE event named after the Saudi head of state. (Photo: Amruta Mokal, FIDE)
FIDE denies that Bayat's position on the arbiters' Commission was removed in retaliation. According to David Llada: "All FIDE commissions undergo a profound renovation every four years. 11 of the 15 commissions had a new chairperson appointed during 2022. Over 60% of the 285 people who are part of the commissions have changed during this renovation process." Bayat shared multiple private messages with Lichess from FIDE officials who seem sure the position on the commission was removed in retaliation for Bayat's clothing choices at the Fischer Random World Championships.
Bayat's future with FIDE is unclear. She was not invited to work as an arbiter at the most recent FIDE event, the 2022 Rapid and Blitz World Championships. Fortunately for Bayat, there are many other organizations that organize chess tournaments, so a potential FIDE exile would not be career-ending. She's integrated well into the British chess community, including being named the Head of Events for the English Chess Federation. She also works for numerous non-FIDE events throughout Europe and in the US. Bayat is stoic about the consequences of her clash with Dvorkovich and FIDE: "I thought that this would be the outcome, I was ready for it."
The Iranian Chess Federation was contacted for comment on this article and did not respond.

https://lichess.org/blog/Y73kBhAAAHxja3WN/5-centimeters-of-hair-iranian-chess-in-2023
Comments
comments