The Eighth round of the 2022 Candidates Tournament is over with Ian Nepomniatchi pushing his lead to a full point over Fabiano Caruana, who stumbled today against his countryman Hikaru Nakamura.
Daily, Lichess is providing a broadcast of the games played in real-time. We also have a selection of annotated games by GM Nijat Abasov/GM Ulvi Bajarani, and video recaps by WGM-elect Jesse February.
Game 1: Richard Rapport – Jan-Krzysztof Duda 0 – 1
The two Candidates rookies faced off today, hoping to climb back to an even score. It may be defeatist to look at things in these terms, but scoring 50% in your first candidates tournament against the best players in the world would be a nice result for these two. In a Four-Knights Game, Rapport lived up to his reputation of playing strangely in the opening with the somewhat strange 4. g3 and the marginally more strange 8. b3. Those moves are a slower sort of strange, and a careful maneuvering game ensued. Duda seemed to have slightly the better of it until Rapport played 14 fxe3, trading a chunk of Stockfish evaluation for attacking chances. Duda couldn't find the best defensive moves and was eventually overrun on the kingside.
https://lichess.org/study/embed/450dtcgH/4UPm9LKl
Credits: FIDE/Stev Bonhage
Game 2: Ian Nepomniachtchi – Liren Ding ½ – ½
Sometimes GMs arrive at the board while not absolutely filled to their eyeballs with a desire to win the game. It doesn't necessarily come from laziness either. If you're ahead in a tournament by a reasonable margin, taking a quick draw (or a longer but similarly easy draw) is a perfectly reasonable strategic decision on its own merits, forgetting any human factors like the extra rest you'll get before the next game.
This was one of those games.
https://lichess.org/study/embed/fsvj5GFW/uoH0r3Se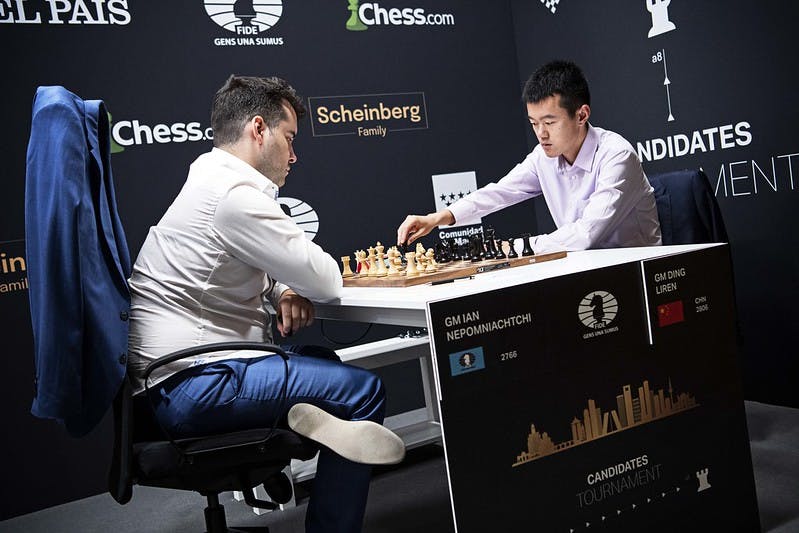 Credits: FIDE/Stev Bonhage
Game 3: Hikaru Nakamura – Fabiano Caruana 1 – 0
The two Americans played each other today in what was a critical game for both of them. Coming into the round, Caruana was a half-point behind the leader and Nakamura a full point behind that. The opening was a fashionable and unbalanced line of the Ruy Lopez with White trading a piece for 2 pawns and central control. Caruana seemed to have gained equality but lost the plot a bit with 22… c4 and especially 27.. Nc5. Suddenly, Nakamura was winning. Caruana lost one of his critical central pawns, and the other was firmly blockaded on the dark squares. Unable to find any counter-play against superior fire power, Caruana resigned on Move 74.
https://lichess.org/study/embed/450dtcgH/bnWFf3AZ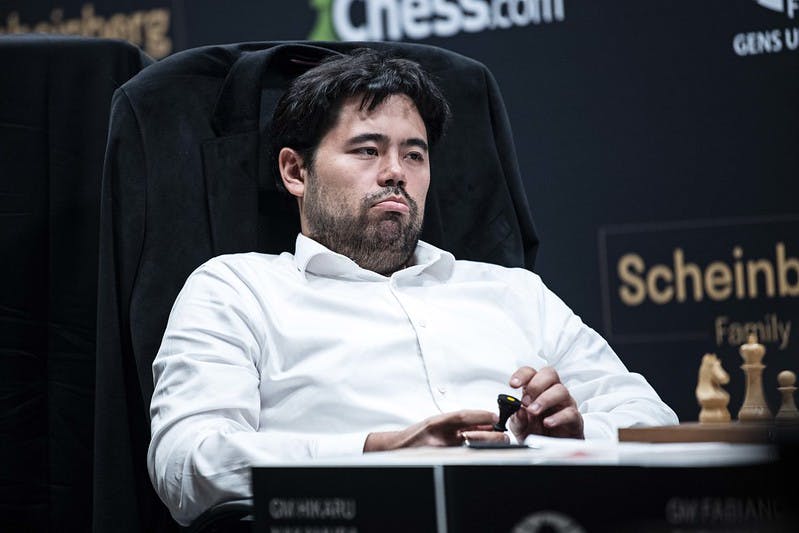 Credits: FIDE/Stev Bonhage
Game 4: Alireza Firouzja – Teimour Radjabov ½ – ½
Alireza entered this event with high hopes of a match with Magnus but things haven't gone his way. He managed a slow Italian Game for 74 moves of positions that were mostly better for him. Our GM annotator got lots of practice using the "White is better" symbol, but, unfortunately for Alireza, never had a reason to use anything more extreme.
https://lichess.org/study/embed/450dtcgH/S6ua1gd7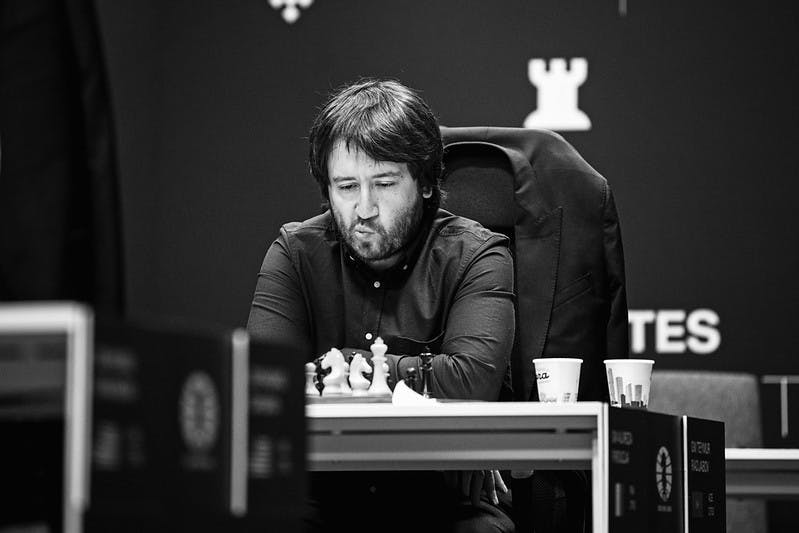 Credits: FIDE/Stev Bonhage